CUT FROM A DIFFERENT CLOTH (2005)
NICE BEING ALONE | CASSIUS KING | ORDER CDs
# # #
DAN LORENZO - CUT FROM A DIFFERENT CLOTH
SOLD OUT.
1) Jim Florentine/Don Jamieson prank
2) Bocca Della Verita
3) 1974
4) Clintonesque
5) You Wanted The Best
6) Betty Last Night
7) You're Out
8) Phd. In Cleveland
9) I'll Go North
10) Back From Nice
11) Hollywood
12) Two Timer
13) America The Beautiful
SOLD OUT!
Back to the top
# # #
DAN LORENZO - NICE BEING ALONE
Available NOW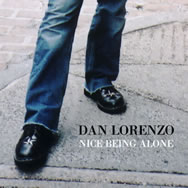 1) BONjour
2) My Level
3) Too Fast For Hate
4) Nothing
5) Keep It Together
6) F-Bombs For Everyone
7) Naked
8) 323ILG
9) Goin' Blind
10) Tall
11) Devil's A Lady
12) Frozen Planet
13) Not So Hidden Tracks
ALL MUSIC AND LYRICS DAN LORENZO except "Goin Blind" - music Simmons/Coronell and "Devil's A Lady" lyrics by John Kosco. All other songs Dan Lorenzo/Exist To Resist ASCAP
Back to the top
# # #
DAN LORENZO - CASSIUS KING
SOLD OUT
1) KISS OFF
2) FROZEN PLANET
3) CASSIUS KING
4) ROUND AND ROUND
5) CHILDISH
6) DAN ZIG HATES X-MAS
7) THIS THING OF OURS
8) TARGET FIXATION
9) HOTTER THAN HELL
10) 4 MORE YEARS/USA
11) BS
12) BIG COUNTRY
13) FROZEN PLANET (No cursing)
14) FIEND
DAN LORENZO: All Guitars, Music, melody/lyrics, bass, and vocals EXCEPT:
JIMMY SCHULMAN: Bass on 2,3,7,8,13 and 14
MIKE CRISTI, TOM MULLIGAN, and DAN: vocals on "BS"
ALAN TECCHIO: Vocals, lyrics and melody on 8
JOHN KOSCO: Vocals, lyrics and melody on 14
JOHN MILNES: drums on everything EXCEPT Ron Lipnicki drums on tracks 4,7,8,9,13 and 14
"Hotter Than Hell" by Paul Stanley
"Round and Round" by Brad Whitford and Steven Tyler
All other tracks Dan Lorenzo ASCAP/EXIST TO RESIST
Recorded November and December total of 4 days by Mike Koenig Crystal Studios. All artwork by Zeckle.